A career in trucking can have great rewards financially for and individual and their family. However, paying for your training upfront can be difficult for some. This is where company-sponsored training or tuition reimbursement might a great option for you! But what is tuition reimbursement and how can you make it happen?
Learn how Company Sponsored Traning Works: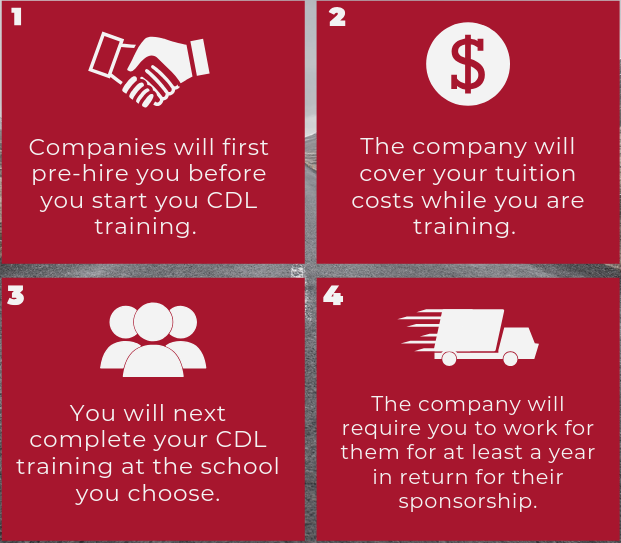 Tuition Reimbursement is a program where carriers will offer to pre-hire a student before they start their training. However, it is important to note; not all carriers offer programs like this. You will need to do your research beforehand.
The carrier can offer to either sponsor all or part of your training while in school. Then you will be asked to reimburse the carrier after your have completed your training and begin working for them. To join their team, however, you have to continue to meet all the requirements and maintain positive grades and relationships while in school.
After making an agreement with a carrier, you will be off to start your training at a CDL school. The school you choose will teach important behind-the-wheel and classroom skills before you get on the road. They are here to help you find success in your trucking career.
Now that you have successfully completed your CDL training, it is time for you to get started with the company you originally signed a contract with. They are still expecting you to work for them and put to use all of the knowledge you learned in CDL training. Do not let them down!
Does this sound like a great option for your CDL training? Company Sponsored Training is an excellent platform to learn your truck driving skills because you can achieve your career goals no matter your financial situation. Please contact us for more information and services regarding driver training.